PopUp Studio Announcement!!
December 14, 201 9 House of Kismet, Asheville, NC

Tintype Wagon is rolling into town just in time for the Holidays! No better way to celebrate and memorialize time together than with a Tintype Portrait. Tintypes are one of the most archival photographic processes available and will last generations!

Chris Morgan will be on hand offering one of a kind forever portraits on Saturday, December 14, from 12-8 at

House of Kismet
27 Foundy St #40
Walk Ins and Sign Up the day of Event
Please RSVP here if interested or coming!

Individuals, couple and groups of up to 4 people will be captured using the wetplate collodion process of photography, first offered in the early 1850's. The mainstay of photography till the late 1870's, wetplate collodion photography is a handmade, individually created photographic heirloom made while you wait. Each image (plate) is coated, sensitized, exposed, and developed on the spot. Each portrait subject will be able to view their image "clear" in the fixer, watching as it changes from a negative to a beautifully toned reversed positive image. After clearing, the image will be dried, varnished using a vintage recipe varnish, then foldered for delivery.

Each 4x5 collodion image (up to 4 people per plate) is $50 and will be completed on site the day of the event. If multiple images are needed, individual plates will need to be prepared and photographed at that time, at $50 each. Images can be picked up later in the day (at least an hour after the portrait session), or on a following day at your convenience. Payment can be made with cash or card, onsite. There are galleries, studios, cafes, and shops all with short walking distance of the venue!

Introduced in the mid-19th century, each tintype photograph is individually created by coating, sensitizing, exposing and developing metal plate as the subject sits for the portrait session. Many Civil War era photographs were created with this historic technology, which provides a hauntingly beautiful and permanent image especially suitable for heirloom portraits of individuals, families, and bands. Photographer Chris Morgan has been photographing tintypes for over 17 years.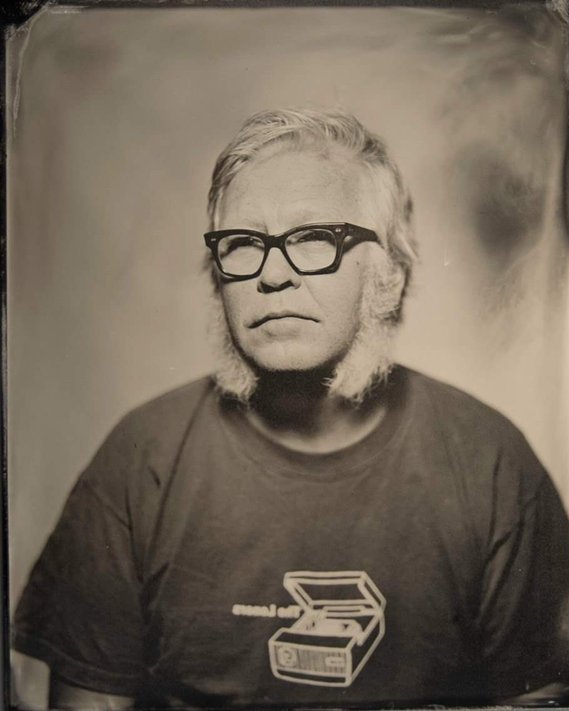 Mobile Tintype Studio
Want to create a buzz at your location? Ready for a great time with friends as well as old and new customers through amazing photography?
Contact Chris to discuss setting up a Mobile Tintype Studio at your next event.

We are available for festivals, weddings, music events and corporate events. Whether you are planning a small, intimate wedding or a major festival we can provide an excellent and unique experience for your visitors.
Shoot me an email at chris@thesilverbath.com for more information.